CB ATHLETIC CONSULTING TRAINING REPORT -
www.cbathletics.com
ISSUE #81
INSIDE THIS ISSUE...
- "Profile of the Month: Strength Coach Mike Gough"
- "GET LEAN & HEALTHY! An updated GET LEAN manual"
1 - PROFILE: SPEED SPECIALIST COACH MIKE GOUGH
Every month CB ATHLETICS will be featuring a new strength coach and an insight into their conditioning philosophies. There are many great coaches out there that are unrecognized and that may even live in the same city as you or an athlete you know that is looking for advanced instruction. Our first profile will feature Ottawa, Canada strength coach Mike Gough, owner of www.optperformance.com and a former interim strength coach with the Toronto Raptors and Cleveland Indian's minor league coach.
If there are any other features you would like to see, please send your ideas. Soon CB ATHLETICS will be proud to offer exercise pictures and videos, athlete profiles, more programs, and other great features.
Finally, here is a Master's program that all students of strength and conditioning (especially those in Western Europe) might want to consider: http://www.education.ed.ac.uk/courses/mms/SC/index.html
Now on with the interview:
CB: Mike, tell us a little bit about your current work situation.
MG: I train elite amateur and professional athletes to improve their sport performance. During the summer months I have a very successful Hockey Fit Conditioning Program in Eastern Ontario (Ottawa area). I train athletes from the NHL, AHL, OHL, NCAA and tier II levels specializing in speed, agility, quickness, and plyometrics.
In the winter months my focus is with my Baseball Conditioning Program where I have a handful of professional baseball players, and my NFL Combine Prep Camp. This is my first year running the NFL camp. I have draft prospects from major D1 schools such as Florida State. I spend whatever time I have left mentoring future strength coaches and working with my website www.optperformance.com. I have recently opened an online store carrying training products that I have had success with along the way.
CB: What is your education background?
MG: I attended Concordia University in Montreal, Quebec (BSc. Exercise Science). I believe that a lot of my education came after graduating, learning from top people in the field such as Fernando Montes of the Cleveland Indians and my good friend Scott Livingston (now with the Montreal Canadiens). I have realized that a lot the ideas and theories I have and use today are not from studying from a book, but from practical learning experiences I have had along the way with some of the top names in the field.
I became certified by the NSCA as a CSCS in my senior year at Concordia and I like to attend conferences and seminars to learn and share ideas with others in the field.
CB: What is your training philosophy?
MG: My philosophy is providing the athlete with the most personalized training program available. I train one on one or in small groups so every athlete gets the attention they need. I like to motivate and push each athlete to higher levels of physical conditioning and I like to train the complete athlete.
CB: Can you give the reader some tips for improving athleticism?
MG: Train at high speeds. Do every speed, agility and plyometric drill as fast and as explosive as possible. Constantly change exercises or drills to challenge the body, increase the difficulty, add stability and balance into drills. Remember we must not only train the muscles but also the brain!
CB: Can you describe your clients a little further?
MG: Strictly elite amateur and professional athletes. I have worked with athletes such as David Justice and Roberto Alomar, Vince Carter, Tracey McGrady, and Antonio Davis when I worked with the Toronto Raptors, and Fred Brathwaite of the St. Louis Blues, along with hundreds of other athletes who I have shared ideas with along the way.
While working with the Toronto Raptors, I implemented more of a maintenance phase of conditioning throughout the year. The goal was to maintain levels of strength, agility, power, and overall conditioning of the players. The players would have if possible two lifts a week depending on the schedule and travel. Players that played very little would perform extra conditioning on game days, and the players on the injured list would condition every day. I pushed these players hard to maintain high levels of basketball specific conditioning. They would perform footspeed, strength, agility, and anaerobic conditioning.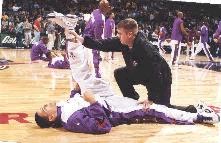 CB: That's amazing! Those are fantastic experiences that I'm sure have allowed you to pass on amazing information to the younger athletes. What are some of your personal achievements?
MG: I get a lot of satisfaction from being in this profession. Seeing the athletes get drafted in the NHL, Major League Baseball, receive a NCAA Scholarship, or simply make the jump to the next level of play. I pride myself on the success of my clients.
CB: Again, great stuff. Any quick tips to pass along for building muscle?
MG: Get a proper training program by a qualified professional, such as MASSIVE ACTION from CB ATHLETICS. Many people who want to build muscle are often training with no purpose and no direction and then wonder why they are not seeing the results they want.
CB: Misdirected training is often a big problem. What other common mistakes do you see athletes making?
MG: Many athletes don't understand the concept of recovery. Recovery is as important as the training itself. Many athletes do not hydrate or fuel their bodies the way they should. They negate the effects of training by not getting adequate rest and recovery.
CB: You've had a great career so far. What are your goals?
MG: My goal is to have an impact on more and more motivated athletes. To push them to new levels of sports performance and ultimately to make their athletic dreams a reality. I would love to someday open up a training facility with my close colleagues and friends.
CB: Thanks Mike! You have been an outstanding initial profile. Where can athletes contact you for more information on your programs?
MG: Athletes can contact me through my site: www.optperformance.com.
2 - GET LEAN, GET HEALTHY, GET THIS PROGRAM!
What started out as a program designed to answer basic questions about losing body fat while maintaining muscle has quickly evolved into a 40-plus page E-book. This manual outlines the best training, nutrition, and supplement strategies for men and women to lose body fat fast. GET LEAN contains 7 different training resistance-training protocols and numerous meal plans to help everyone reach their goal body composition.
Basically, the GET LEAN program is less of a single training program, but more of an answer to everyone's questions when they embark on that type of lifestyle such as, "What should I eat?", "Should I use this product or this one?" and "What type of exercise should I do?". Because this program is based heavily on research, it debunks some "gym myths" while supporting other long-standing fitness beliefs. Certain areas (such as carbohydrates) are covered at a very in-depth level with the philosophy that it is "better to provide too much info than not enough".
Recently, GET LEAN has advanced one step deeper into protecting the health of the reader. In the latest edition, important tips have been added for those at risk of cardiovascular disease and high cholesterol. The end result is the new GET LEAN & HEALTHY! E-book.
While the impact of high cholesterol is debatable, most doctors will recommend that high cholesterol levels be reduced. GET LEAN & HEALTHY! provides healthy lifestyle changes that will help bring your cholesterol levels down and improve your cardiovascular health. The program provides easy to follow strategies to reduce dietary trans-fatty acids while learning how fish oils, Green Tea, and fiber can enhance your health. Watch out for products that are labeled as "Cholesterol Free" because these often pack a lot of trans-fatty acids.
Here's what people are saying about the GET LEAN program:
"I have tried the program and am down 12-15 lbs. Thanks again for your help and guidance." - Geoff Clarke
"I've lost 4-5 pounds and reduced my waist size. In addition, I have gotten stronger and my performance in the gym is noticeably better. The diet and supplementation changes have really helped." - Tony Theodoropolous
"The GET LEAN program has helped me immensely. I've lost body fat, regained my energy and built a solid foundation of strength. More importantly, my self-confidence has skyrocketed while both tension and stress have plummeted." - Glen Rairden, Actor